If you have a sweet tooth, then there are some Indian sweet dishes that you just won't be able to say no to! Every region of the country has some sweet dish or the other of its own which are best enjoyed by people from all across the world!
There are a lot of Indian sweet dishes that one might be fond of, but there are 5 dishes that you will not be able to say no to if you are offered them. Want to know which are the top 5 Indian dishes that you have to try out, at least once to understand their charm? Here they are: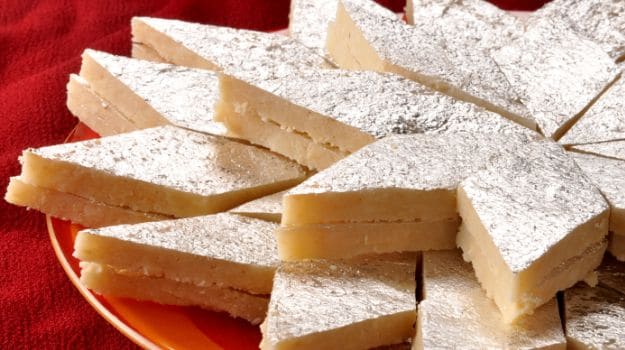 Kajubarfi: This is one of the most famous sweet dishes of India. Made out of cashews and condensed milk, this is a dry delicacy that can be had anywhere and everywhere at any time of the day. Shaped like diamonds and rich in content, kajubarfi lovers can be found in almost every home. So if you feel like trying out something really and truly Indian then this sweet dish is a must. Also, since it is dry and stays fresh for a long time, you can also parcel this and send it to your loved ones!
Rasmalai: Well here is another delicacy of milk. Made of little balls of cottage cheese this is a delicacy that can be prepared at home as well if you are good at making sweets. For those who are wi ing to try this at home, you can look up the rasmalai banane ki vidhi to get an idea about how this dish is prepared. This dish has a milk base and is best enjoyed after a nice and heavy meal. If you have it once, you will definitely be asking for more!
Rosogolla: This is one famous dish from the eastern region of India. Dipped in a sugar syrup, rosogollas are made from milk. Though there is some confusion and debate as to from which state this sweet had originated- Bengal or Odisha, nevertheless, it is enjoyed by people from different parts of the world with equal fervour. If you want to try out a sweet dish from the eastern region of India, this is surely the one to go for.
Kheer and malai: Most Indian sweets are milk based and this is another milk delicacy for you. Prepared by condensing the milk, kheer is a very popular sweet dish throughout the country. Malai too is prepared from milk and the best ones can be found in the lanes of Varanasi!
Gajarkahalwa: This is a very famous sweet dish for the winter months. Prepared with carrots and condensed milk, this is one delicious delicacy that you ought to try out at least once. This dish is particularly famous in the north-western regions of the country, though when given a dish, it is enjoyed by all and sundry!
So, these are some really popular Indian sweet dishes that you need to try out at least once to explore the sweeter side of India.